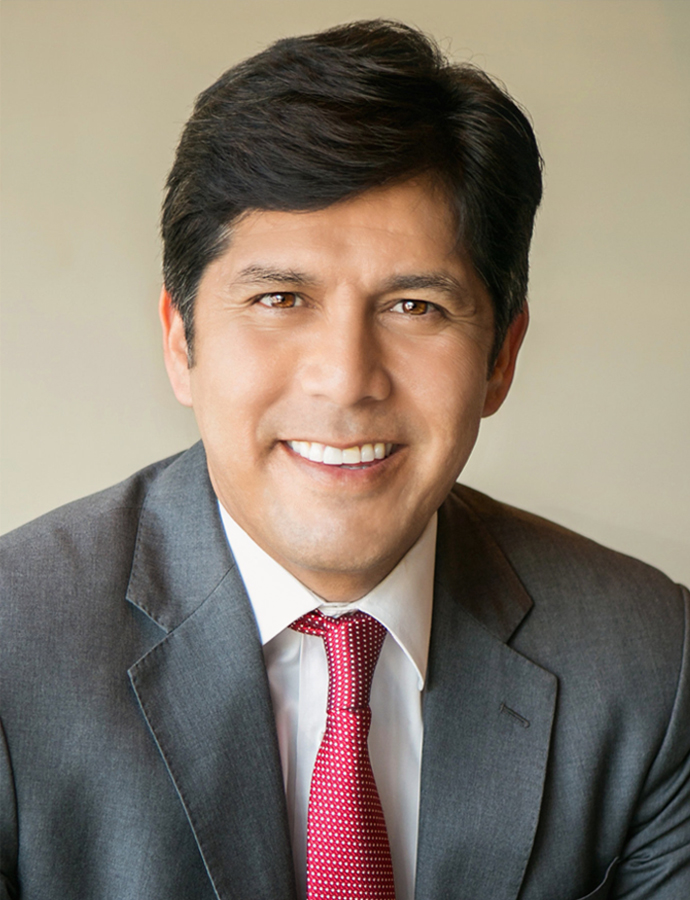 Kevin de León, Distinguished Policymaker-in-Residence and President pro Tempore Emeritus of the California State Senate
---
Kevin de León is Distinguished Policymaker-in-Residence and Senior Analyst with the UCLA Luskin School of Public Affairs. His role includes an advisory position with the Luskin Center for Innovation. He teaches on topics of interest to the School's graduate and undergraduate students studying public policy and public affairs.
He is President pro Tempore Emeritus of the California State Senate. The son of a single immigrant mother with a third grade education he rose from the San Diego barrio of Logan Heights to lead the California State Senate, the first Latino to do so in more than a century.
As leader of the California State Senate, he led the nation to establish landmark clean-energy mandates, climate and environmental protections, and immigration reforms. This includes authoring and passing Senate Bill 100, which legally mandates California, the fifth largest economy in the world, to achieve 100 percent clean-energy by the year 2045. He also authored SB 535, which directs a minimum of 25% of carbon Cap-and-Trade auction revenues (California Climate Investments) to communities disproportionately impacted by pollution and poverty, and SB 1275, which resulted in equity programs to increase access to electric vehicles in disadvantaged communities.
Before entering into politics, Senator de León served the public as a community organizer, taught U.S.citizenship courses and English as a second language, and advocated for public schools. He graduated with honors from Pitzer College at the Claremont Colleges. Senator de León is a Rodel Fellow at The Aspen Institute and has served as a lecturer at UC Berkeley, UCLA, Stanford, and USC before joining UCLA in February 2019 as a visiting professor. He has one daughter and a dog, whose name is Popeye