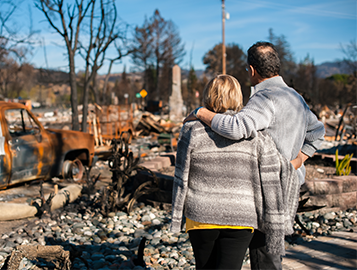 Wildfire and Water Supply in California
In September 2021, 23 scholars and practitioners with a diversity of water and fire expertise came together to answer a critical question: How can California proactively protect its water supply from fires? Their findings, combined with the insights of the author team, form the basis of a new scoping report, released by the University of California Division of Agriculture and Natural Resources' California Institute for Water Resources and the UCLA Luskin Center for Innovation.
To help California policymakers, researchers, affected communities, and water system operators understand the complex relationship between wildfire damage and water supply, the report authors and participants in this workshop present a set of recommendations:
Make communications more accessible, consistent and trustworthy. Residents must receive timely, unified messaging, translated into appropriate languages and in accessible venues, telling them if their water is unsafe and how to access clean water.
Invest in local capacity and expertise. The challenges faced vary widely for different communities, and it is important to provide each community with the resources it needs to address the risk it faces. As part of this, efforts should support Indigenous leadership, knowledge, and practices to help manage healthy ecosystems.
Provide guidance to update regulations. Guidance such as building codes and infrastructure regulations will help individuals and communities make informed decisions and address risk appropriately.
Conduct research and build a broader base of knowledge. There is still much to learn, and it is important to illustrate the exact challenges water systems face and how best to address them.
Make funding accessible and targeted. Increased earmarked funding for emergency water supplies, housing assistance, and support for water systems, local organizations, and others will help advance solutions.
Further coordinate efforts to address water and fire issues. Focusing on these interconnected issues together, rather than tackling them separately, can lead to substantial benefits.
https://innovation.luskin.ucla.edu/wp-content/uploads/2021/12/Wildfire-and-Water-Supply-in-California.pdf