Kevin de León Joins UCLA Luskin
Former state legislative leader who bolstered California's role in fighting climate change and building a clean-energy economy will teach public policy courses and provide insight on issues of special importance to Latinos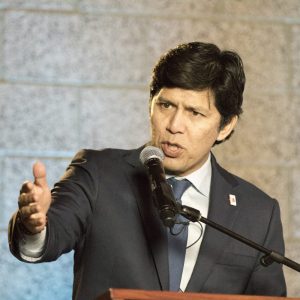 President pro Tempore Emeritus of the California State Senate Kevin de León has joined the UCLA Luskin School of Public Affairs as a distinguished policymaker-in-residence and senior analyst.
"Kevin de León has led the way for more than a decade on issues as important as environmental protection and climate, immigration, education, and so much more. Our students and researchers will both benefit greatly from his insights and vision," Dean Gary M. Segura said in announcing the appointment.
De León began his new role at UCLA Luskin on Jan. 22, 2019, and will teach his first courses at UCLA in the spring quarter that begins in April. His courses will focus on topics of interest to the School's graduate students studying public policy and to undergraduates in UCLA Luskin's new major in public affairs.
As the first Latino in more than a century elected to the position of president pro tem of the California Senate, de León championed California's global leadership role in fighting climate change and building a clean-energy economy. He also focused his attention on rebuilding the state's infrastructure; improving public education; ensuring workplace and health care equity for women, immigrants and low-wage workers; and enhancing public safety.
An aspect of de León's appointment at UCLA Luskin will be a collaboration with the Luskin Center for Innovation (LCI) to design implementation strategies for signature laws that he shepherded during his time in the State Capitol, including legislation to ensure that disadvantaged communities have access to clean transportation options.
Other collaborations with LCI will advance efforts to move the state to 100 percent zero-carbon energy and provide support for policies designed to ensure that California continues to lead the country with its climate policies. De León will help craft community-based solutions that advance these statewide goals.
Read the Luskin School's full announcement here.