Mission
Our mission is to unite UCLA scholars with forward-looking civic leaders to solve environmental challenges confronting our community, nation, and world.
Values
We are problem solvers. Using the power of research, our analysis shapes environmental policy and other solutions for the health of people and the planet.
Make no mistake: clean technology and community-based solutions to the climate crisis do exist. But properly designed public policies are urgently necessary to rapidly scale the solutions and make them accessible to all. This where we come in. Our research shapes environmental policy to be equitable, effective, and innovative. We have no time to waste. What we collectively do this decade will affect the fate of the planet and all who live on it, for current and future generations to come.
Approach
The Luskin Center for Innovation (LCI) conducts rigorous research and timely outreach that informs environmental policies. We evaluate existing and proposed environmental policies to assess their effectiveness, equity impacts, and potential to spur innovation. We then share research findings with our civic partners,  who use LCI's research to design evidence-based policies, programs, and investments. Civic partners include government agencies, nonprofit organizations, and community leaders.
We often focus on California, the world's fifth-largest economy, to support a model of environmental leadership that is relevant globally. Research programs include climate, energy, environmental equity, transportation, urban greening, and water – all linked by the theme of informing effective and equitable solutions to the environmental challenges of our time.
Results
Our work has influenced dozens of local, state, and national policies. Examples include:
Informed California's landmark clean vehicle programs for households and local government plans for zero-emission transportation electrification
Designed the nation's largest renewable energy feed-in tariff program
Advised cities on community choice energy options to achieve their 100% renewable energy goal
Guided the development of a low-income water rate assistance program in California as part of our work to advance the human right to water for all
Delivered recommendations for effective and equitable California Climate Investments — over $10 billion to combat climate change while creating local employment, air quality, and health benefits
Developed an evaluation and technical assistance plan for California's Transformative Climate Communities Program and its uniquely innovative, comprehensive and community-driven investments
Produced guidebooks, downloaded by thousands of users, to support access to public space
In our first 10 years, LCI has earned three national awards from the American Planning Association (APA), five California-level APA awards, and recognition from President Obama's Climate Data Initiative.
Civic Collaborators
Civic collaborators include leaders from local, state, and national government agencies as well as non-profit organizations, business associations, and communities, with a particular interest in California.
Recent and Current Projects and Their Funders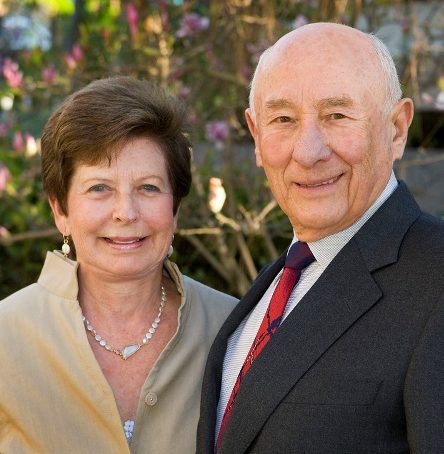 Renee and Meyer Luskin founded the Luskin Center for Innovation (LCI) in 2008, and it became part of the Luskin School of Public Affairs in 2009. Read more about the Luskins and their support for UCLA, the Luskin School, and LCI.
"A sustainable, healthy environment is the greatest inheritance one can leave to children, and the most enduring gift to the community and nation." 
– Meyer Luskin