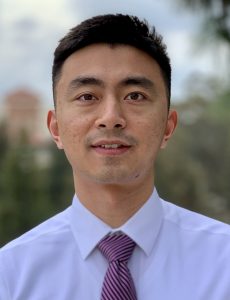 Bo Liu, Researcher
Email: bliu17@g.ucla.edu
Phone:                   Fax:
---
Bo Liu is pursuing a PhD in the Department of Urban Planning, with a focus on energy systems analysis and low-carbon growth planning. His research interests include sectoral and regional understanding of environmental change and mitigation strategies, and cross-country analysis of technology, policy and institutional choices. At the LCI, Bo works on projects addressing planning and policy issues in transportation electrification. He received the UCLA Graduate Summer Research Mentorship in 2018 for a research project exploring factors affecting plug-in electric vehicle adoption in California.
Prior to coming to UCLA, Bo worked at the Pacific Northwest National Laboratory and the New York State Assembly. He has published a number of peer-reviewed articles in Energy Policy, Applied Energy, GCB Bioenergy, Journal of Water Resources Planning and Management, etc. He holds a MS in environmental science from SUNY College of Environmental Science and Forestry, a Master of Public Administration from Syracuse University, and a BS in environmental science from Beijing Normal University.