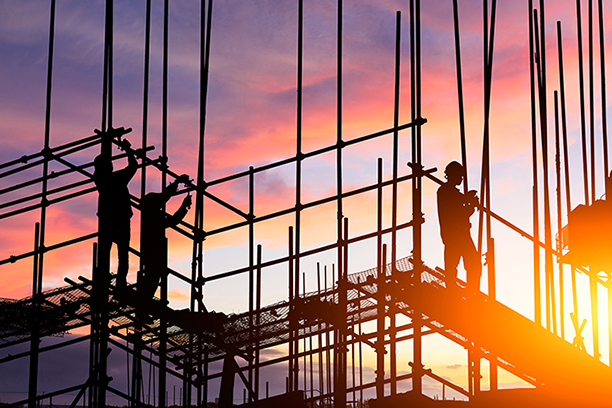 Governments around the world have adopted climate policies to reduce carbon emissions from a variety of economic sectors, with the broader goal of decarbonization. For example, in 2018, then California Governor Edmund Brown signed an executive order setting a goal for the world's fifth-largest economy to reach carbon-neutrality by 2045. Such a transformation will create job opportunities for workers in a wide variety of industries. Understanding where in the economy these jobs will occur is important for designing workforce development policies that create good, career ladder opportunities, especially for workers from low-income communities.
To support this effort, the Luskin Center for Innovation (LCI) conducts research that explores the workplace impacts of climate and clean energy policies, quantifying the jobs that are supported across the supply chains of different investment decisions and making recommendations to inform opportunities of the future.
Workforce Impacts of Los Angeles' Transition from Natural Gas to Renewable Energy
(Current project)
Researchers: Jason Karpman and Weilong (David) Kong
The City of Los Angeles has a goal to transition to 100% renewable electricity. At the request of Mayor Eric Garcetti and City Council, the Los Angeles Department of Water and Power (LADWP) has launched the LA100 Study to determine what investments should be made to achieve this goal. This includes investments to modernize the city's electric system infrastructure, which could be a landmark undertaking and engine for local job creation. Researchers at LCI are collaborating with LADWP to quantify the workforce impact of modernizing LADWP's electrical grid and the city's broader transition to 100% renewable energy. Specifically, researchers are analyzing the regional workforce impacts associated with retiring 1,660 MW of LADWP's in-basin natural-gas-fueled generation equipment and replacing it with renewable energy by 2029.
(2019 report) 
Authors: Betony Jones, Jason Karpman, Molly Chlebnikow, and Alexis Goggans
LCI published the first study to estimate the potential employment impacts of building decarbonization in California. Building decarbonization requires both energy efficiency improvements and reducing the use of fossil fuels in residential and commercial buildings by switching to electricity powered by renewable energy. The California Energy Commission and Air Resources Board have identified building decarbonization as a core strategy to achieve the state's long-term climate goals. The study found that the California's transition to all-electric buildings could support more than 100,000 jobs annually for 25 years, after accounting for losses in the fossil fuel industry.
This research was covered in the Los Angeles Daily News and a post by the Sierra Club, among others.
(2014 and 2019 reports) 
Authors of 2019 report: J.R. DeShazo, Jason Karpman, Weilong (David) Kong, and Colleen Callahan
Authors of 2014 report: J.R. DeShazo, Alex Turek, Michael Samulon
A series of studies assessed the economic and employment benefits of Los Angeles Department of Water and Power's (LADWP's) energy efficiency programs. A common finding across the investment periods, and two similar but differing sets of LADWP energy efficiency programs, is that the investments on average supports more local jobs per dollar of investment than the oil and gas sector, a common benchmark for comparing investments in energy resources.
The first report informed an industry-leading energy efficiency commitment announced by Mayor Eric Garcetti in 2014. This policy sets a 15 percent reduction in electricity consumption in Los Angeles through energy efficiency measures.
Our follow-up report assesses recent progress. This study, released in 2019, found that LADWP's suite of energy efficiency programs continue to perform well because they generate energy cost savings for LADWP customers, leverage co-investment from residents and businesses, and rely heavily on local labor for program activities.
(2018 report)
Authors: J.R. DeShazo, Jason Karpman, Weilong (David) Kong, and Colleen Callahan
LCI completed the first-ever study of the statewide employment outcomes from California Climate Investments. Researchers analyzed the first $2.2 billion in California Climate Investments that the state Legislature appropriated to 11 state agencies between 2013 and 2016, which invested the funds in 29 different programs. Many of these programs also induce customers, businesses, and government entities to contribute matching funds, which we also analyzed. We then estimated the number of jobs supported by each of the 29 programs, describing the distinct economic sectors and industries involved.
Our analysis reveals that the $2.2 billion in California Climate Investment appropriations support about 19,700 jobs in California. The $6.4 billion in induced co-investment supports an additional 55,900 jobs. When added together, appropriated funds and induced co-investment support a total of 75,600 jobs of California. We found the jobs supported are diverse, both blue- and white-collar, in a variety of industries, including construction and architecture, and engineering services. We also estimated the number of jobs supported by $1 million of investment in each California Climate Investment program. We found that for every $1 million the state spends in California Climate Investments, 8.8 jobs are supported in California. This can be compared to 1.6 jobs for every $1 million invested in the oil and gas industries.
See the associated article in Capitol Weekly.
(2015 report)
Authors: Brett Williams, J.R. DeShazo, Alan Kerbel Shein, Tonxin Xu
The growth of the plug-in electric vehicle (PEV) market and updates to the nation's electric grid create jobs that require a wide range of sometimes non-traditional skills. Recognizing that workforce training is needed, Southern California Edison commissioned LCI to conduct research, stakeholder engagement, and seed a multi-phase process of transportation-electrification (TE) curriculum development. This report includes an assessment of the existing state of TE-specific education and training, and recommendations developed out of stakeholder engagement. The work supports a path forward for training PEV, charging infrastructure, and smart grid workforces.
(2014 report)
Authors: J.R. DeShazo and Alex Turek (UCLA's LCI); Manuel Pastor, Mirabai Auer, and Chad Horsford (University of Southern California)
Los Angeles launched the nation's largest Feed-in Tariff (FiT) In Basin Solar program in 2013, helping to catalyze an emerging market for multifamily housing, commercial, warehouse, and industrial rooftop solar. Part of the promise of a properly designed and well-implemented FiT is that it will drive economic growth, enhance environmental sustainability and create social equity in the workforce by creating career ladder jobs through rooftop solar installations.
This report, commissioned by the Los Angeles Business Council, assesses the FiT program's early impacts on the local solar market and on local employment. Researchers find that 40 percent of proposed solar projects are in solar equity "hot spots," meaning in neighborhoods with high solar rooftop potential and indicators of high socioeconomic and environmental distress.
(2011 report)
Authors: J.R. DeShazo, Manuel Pastor, and Mirabai Auer
This report, commissioned by the Los Angeles Business Council, takes account of the potential for solar power in Los Angeles, describes the strength of the region's workforce development infrastructure, and details policies that could both create solar jobs and ensure that a significant share go to workers living in communities of high need. We also look at the extent and efficiency of current solar programs among L.A. County's seven utilities. We focus on industrial and commercial space, noting that the square footage of available rooftops makes for a large market with economies of scale.