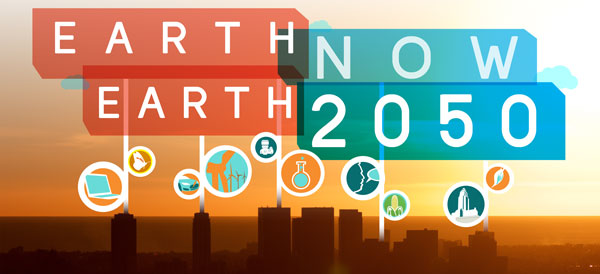 REGISTER HERE for this Luskin College Endowment Inaugural SymposiumFrom public policy to installation art, this event explores all facets of modern environmental challenges and highlights efforts to make lives and businesses more sustainable. The program includes talks from top experts, workshops, local and national nonprofit organizations, art, a student film contest—and much more. We will highlight UCLA campus-wide sustainability while showcasing the new Luskin Conference Center and honoring the generosity of Meyer and Renee Luskin.October 18 – Keynote AddressKathryn D. Sullivan will deliver the symposium's keynote address at 6 p.m. Sullivan is Under Secretary of Commerce for Oceans & Atmosphere, the Administrator of the National Oceanic and Atmospheric Administration (NOAA)—and the first American woman to walk in space. Prior to her current appointment, Sullivan played a central role in directing Administration and NOAA priority work in the areas of weather and water services, climate science and services, integrated mapping services and Earth-observing capabilities. She also provided agency-wide direction with regard to satellites, space weather, water, and ocean observations and forecasts to best serve American communities and businesses.October 19 – Next Generation Policies for a Sustainable FutureVisions for a Sustainable Los Angeles in 2050: The Sustainable LA Grand Challenge has goals of 100% renewables, 100% local water, and enhanced ecosystem and human health by 2050.  Esteemed architect and faculty member, Thom Mayne, Professor Eui-Sung Yi and The Now Institute have mapped out potential scenarios for Los Angeles County in 2050. A round table of city and county leaders will join Mayne in a discussion on potential visions for a sustainable future for Los Angeles. Panelists will discuss how a decarbonized transportation and energy network will enable a projected 11.5 million people to thrive in a hotter Los Angeles.U.S. Climate Regulation—Beyond First Steps: The U.S. will need to make aggressive reductions in its emissions to meet the goals of the Paris Climate Agreement and limit global warming. But while deep decarbonization is technically feasible, no one yet knows what mix of laws and policies it will take to achieve the required, long-term emission cuts. The Emmett Institute will host a discussion of the laws and policy tools needed to make progress on this issue, both in the mid- and long-term. Do existing tools like the Clean Air Act get us far enough? How do the trade-offs between market-based and regulatory policies change as the environmental goals grow more demanding and look further ahead? Can the states do much more, or is stronger federal action required? What role will international negotiations play in stimulating innovation? The discussion will feature:Congressman Ted Lieu (invited)David Roberts, energy and climate change writer, Vox Media, Inc.Dr. Jim Williams, Chief Scientist, Energy + Environmental Economics (E3)Ann E. Carlson, Shirley Shapiro Professor of Environmental Law, Emmett Institute on Climate Change and the Environment, UCLA School of LawEdward A. Parson, Dan and Rae Emmett Professor of Environmental Law, Emmett Institute on Climate Change and the Environment, UCLA School of LawPhilip S. Barnett, Managing Director, Schiliro Barnett LLCThe Future of Environmental Policy in CaliforniaCalifornia has long been at the forefront of environmental policy in the U.S. and globally. This includes pioneering leadership on climate action, sustainable energy, clean transportation, and land conservation. We are now at a turning point and have opportunities to set new goals and innovative strategies for the coming decades. This session, organized by the Luskin Center for Innovation, will feature prominent leaders who will provide their visions for a sustainable future, and discuss what specific policies and innovative strategies are needed to achieve these inspiring visions. This session will cut across agencies and domains to discuss common goals, visions, and actions that the public can be a part of to advance environmental health and sustainability in California for the long term.   Speakers include:Senator Fran Pavley, co-author of the landmark Global Warming Solutions Act of 2006Mary Nichols, Chair of the California Air Resources BoardMary Luevano, Commissioner, California Coastal CommissionRobert Oglesby, Executive Director, California Energy CommissionRandall Winston, Executive Director, Strategic Growth CouncilJ.R. DeShazo, Director of the UCLA Luskin Center for Innovation (Moderator)October 20 – Environmental Science, Narratives, Art and EducationEight Scientific Visions for a Sustainable Planet: Forget the old scary stories of planetary collapse—environmentalism today is about optimism and action. Join eight faculty from UCLA's Institute for the Environment and Sustainability  to explore their science-based visions for what a sustainable Earth could look like in 2050 and how to get there. We're talking zero-carbon city-states, supercharged African scientific networks to fight climate change, and the Uber-ized transportation systems of the future. Maybe even a jetpack or two. Speakers include:Magali Delmas, Director – Center for Corporate Environmental PerformanceAlex Hall, Director – Center for Climate ScienceStephanie Pincetl, Director – California Center for Sustainable CommunitiesDeepak Rajagopal, Professor – IoESH. Bradley Shaffer, Director – La Kretz CenterThomas B. Smith, Director – Center for Tropical ResearchAradhna Tripati, Professor – IoESRobert Eagle Tripati, Professor – IoES Storiesfor a Changing Planet: LENS—the Laboratory for
Environmental Narrative Strategies—will have its public launch at the Earth
Now: Earth 2050 symposium. The program will include talks by novelist and
biodiversity expert Lydia
Millet, environmental photographer and writer Subhankar Banerjee,
and Outdoor
Afro founder and CEO Rue Mapp. The session will also feature panel
discussions with journalists and artists along with a dynamic showcase of UCLA
faculty and student projects that reflect LENS's mission to conduct innovative
research on environmental narrative in diverse contexts; to train the next
generation of environmental thinkers, scientists, and leaders in multimedia
storytelling and strategic communications; and to collaborate with others to
enhance real-world environmental communications. LENS is also curating public
installations of immersive art projects at the conference site that address
timely environmental and ecological topics around campus, including Marina Zurkow's hand-drawn,
software-driven animation Mesocosm (image
below), a collaboration between photographer Adam Nadel and UCLA anthropology
professor Jessica Cattelino on the cultural politics of water in the
Everglades, and Tree Lines, an exhibit on ancient bristlecones by
artist Valerie Cohen and writer Michael Cohen. LENS is also installing artworks
around campus during the conference in collaboration with the Center for the Art of Performance at UCLA (CAP
UCLA). Inspiring projections of images of LA as an "Animal Land" by artists
Kendra Sollars and Lauren Strohacker will occupy the outdoor walls of student
residences on The Hill, while the artists engage students in creating
their own art. And an original video artwork, Holoscenes/Anthropocene
1 , conceived
by performance artist Lars
Jans about climate change, sea-level rise, and our everyday lives
will be unveiled at an after-party co-sponsored by LENS and CAP UCLA at the
Fowler Museum at the end of the symposium. ScheduleTuesday, October 186:00pmKeynote address by Kathryn Sullivan: Under Secretary of Commerce for Oceans & Atmosphere, NOAA Administrator (Centennial Hall) Wednesday, October 198:30am – 10:00amSustainable L.A. Grand Challenge: "Visions for a Sustainable L.A. in 2050" (Centennial Hall)9:00am – 6:30pmPoster Session (Legacy A&B)10:00am – 10:30amBreak10:30am – 12:30pmEmmett Institute on Climate Change and the Environment: "U.S. Climate Regulation – Beyond First Steps" (Centennial Hall)12:30pm – 2:00pmBreak1:00pm – 1:30pmScience Communications Lecture (Randy Olson, Centennial Hall)2:00pm – 5:00pmScience Communications Training (Randy Olson) for pre-registered graduate students and faculty (Enlightenment)2:00pm – 5:00pmLuskin Center for Innovation: "The Future of Environmental Policy in California" (Centennial Hall)5:00pm – 6:30pmPoster Session Reception (Legacy A&B)Thursday, October 209:00am – 5:00pmScreening of winning high-school student environmental short-films; LENS artist's videos (Laureate Room)9:00am – 5:00pmHigh-school student mentoring (Legacy A&B, Exploration, and UCLA Campus Sustainability tour)10:30am – 12:30pm  Institute of the Environment and Sustainability (IoES): "Eight Scientific Visons for A Sustainable Planet" (Centennial Hall)12:30pm – 2:00pmBreak2:00pm – 5:15pmLaboratory for Environmental Narrative Strategies (LENS):  "Stories for a Changing Planet" (Centennial Hall)5:30pm – 6:30pmGreenShorts: screening of winning Los Angeles area high-school student environmental short-films and Awards Presentation (Centennial Hall)6:30pm – 7:30pm Closing reception (Centennial Terrace) 7:30pm – 10:00pm After-party and art exhibit at the Fowler Museum sponsored by LENS and CAP UCLA with music, dancing, food, and drink.