Speeding Up Electric Vehicle Adoption Among Apartment and Condo Dwellers 
Fast charging stations may enable increased adoption of electric vehicles by renters, according to new UCLA Luskin Center for Innovation research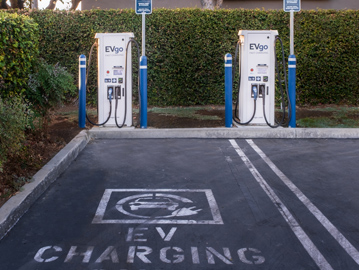 Deploying fast charging stations near high concentrations of multifamily housing  — such as apartments and condos — may help California meet its zero-emission vehicle adoption targets, according to a new study by the UCLA Luskin Center for Innovation.
The research evaluates a pilot program designed to increase charging access for Californians. Created by EVgo and developed with the California Public Utilities Commission, the project analyzes how drivers used twenty new fast charging plazas, built in communities with higher-than-average proportions of multi-family housing. 
Multi-unit dwellings, like apartment buildings, comprise almost one-third of homes in California. However, the majority of these residences do not contain charging access for electric cars, and it can be prohibitively expensive for both tenants and landlords to retrofit garages. These hurdles help explain why only about 7% of electric vehicle owners in the state are apartment dwellers.
Fast charging can be especially important for these tenants, who may not be able to plug in their vehicles overnight. The direct current fast chargers in the pilot program offer a meaningful charge in just twenty minutes. In comparison, typical home or public charging equipment can require a full night to fill up a car's battery.
Results from the study underscored the usefulness of fast chargers for apartment dwellers — nearly half of EVgo customers who live in multi-unit dwellings report that they primarily power their cars via fast chargers. Most of those customers also reported that they did not have access to home charging.
The findings also highlight the importance of near-to-home fast charging. Electric vehicle drivers who live in multifamily housing are 350% more likely to consider near-to-home fast charging as important, compared to those who don't live in multifamily housing. They also use fast chargers more frequently and at locations closer to their homes. 
The evaluation can help local governments and utilities understand where to invest resources, especially as California works toward its ambitious transportation electrification goals, which include a target of zero new gasoline car sales by 2035. Further, since residents of multi-unit dwellings are more likely to be low or moderate income and live in areas more heavily impacted by air pollution, there are important equity considerations to expand electric vehicle ownership among this population.
"We wanted to support decision makers in making data-driven choices about where to invest in charging," says James Di Filippo, lead author of the report and researcher at the Luskin Center for Innovation.
Di Filippo explains that to date, governmental programs have primarily focused on installing charging equipment on-site in apartment buildings and condos. As state and local governments plan for the future, he suggests they should consider additional support for off-site, public fast charging stations targeted in areas with high concentrations of multi-family housing. 
For charging companies like EVgo, the findings can also inform where to locate future stations. 
"EVgo thanks the UCLA Luskin Center for its partnership in studying and affirming the importance of public fast charging to expand access to the benefits of electric vehicles across socioeconomic groups and to apartment residents in particular," commented Jonathan Levy, Chief Commercial Officer at EVgo. "As EVgo continues to expand in California and across the country, we recognize the continued importance of public fast charging to make Electric for All a reality."