Turner and Colleagues Receive Grant to Pinpoint Sources of Heat Injustice
Through modeling, data and storytelling, researchers will explore why historically redlined neighborhoods face extreme heat burdens today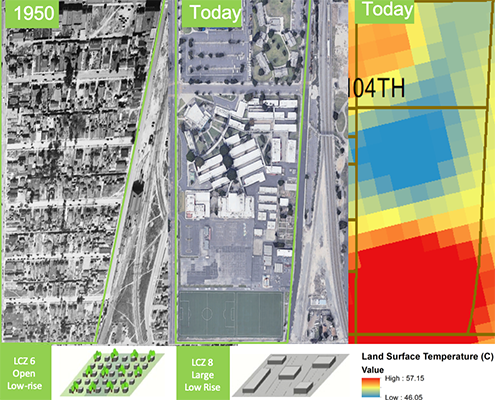 October 15, 2021
How did communities of color become disproportionately burdened by extreme heat? A first-of-its-kind study by UCLA Luskin Center for Innovation Co-Director V. Kelly Turner and colleagues Mark Vestal and Bharat Venkat aims to answer this question. 
In a case study of Watts, Los Angeles—a historically Black neighborhood where temperatures are 2.6°C (4.7°F) hotter than the city average—the researchers will examine how the neighborhood's microclimate has changed over time and pinpoint what discriminatory interventions contributed to the present-day heat burden. 
"We have known for a long time that Black and Brown neighborhoods like Watts tend to be several degrees hotter than their white counterparts—even within a few blocks of one another," said Dr. Turner. "But we don't know what specific actions catalyzed that difference."
To find ways to best remedy racialized heat disparities in Watts, the researchers will first investigate the causes. This will involve developing a novel, historical urban climatology method that combines archival climate and land use data with learnings from oral histories told by long-time Watts residents. Ultimately, understanding the specific causes of heat disparities will help identify how and where to invest resources to advance environmental justice today.
"As a historian of South Los Angeles, I'm excited not only to uncover key temporal junctures and physical sites in the heat history of Watts, but also to reconstruct the racialized governance responsible for when and how the neighborhood got hotter, decade after decade," said Dr. Vestal. "This research is intended to encourage a reckoning with the history of our urban environment and who has had the power to transform it in harmful ways."
This project has support from Watts community members and from program administrators from California's Transformative Climate Communities Program, which funds local climate action projects in Watts and other areas. 
"We have much to learn from the residents of Watts," said Dr. Venkat. "Oral histories will help us to pinpoint critical social and environmental transformations that affect how communities of color experience thermal inequality, as well as how Watts residents have responded to these transformations in their everyday lives."
Funded by a $30,000 UCLA Transdisciplinary Research Acceleration Grant, the study will ultimately be used to secure additional, outside funding to continue the research. It integrates transdisciplinary expertise from across UCLA, including photos from the Aerial Photography Lab. 
To learn about other research from the Luskin Center for Innovation, visit our Climate Adaptation and Resiliency page or read about the Los Angeles Integrative Nature and Design (LindA) Collaborative, a project exploring how cities can respond to climate change through sustainable urban design interventions.