Colleen Callahan Named Co-Executive Director of Luskin Center for Innovation
With more than a decade at UCLA, Callahan steps into a new position to further shape environmental solutions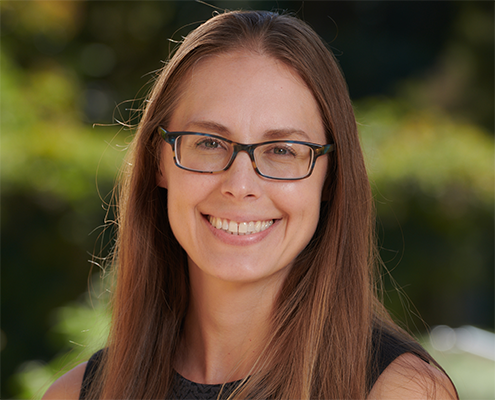 February 3, 2022
Colleen Callahan (MA UP '10) has been appointed as co-executive director of the Luskin Center for Innovation. She served as the founding deputy director for 12 years, playing an integral part in building the research center from the ground up. The new role reflects Colleen's experience, the growing trajectory of the center and its goals for the future. 
In this expanded position, Callahan brings broad vision and leadership capacities to center-wide planning, development and operations. She plans to amplify the work of the Luskin Center's 20 faculty affiliates, 12 full-time staff, and more than 25 part-time researchers and consultants – while increasing strategic engagement and partnership initiatives to maximize the Luskin Center's impact on public policies and other environmental innovations for the health of people and the planet.
"It's both an exciting and daunting time to step into this role," said Callahan. "Bold action on the climate crisis is urgently needed. I'm humbled to have this opportunity to expand the center's collaborations with frontline communities, policymakers and others to help advance solutions." 
The executive director position is new to the Luskin Center and will enhance the leadership structure of the organization, with Greg Pierce sharing the executive leadership role with Callahan. In addition, V. Kelly Turner and Pierce, faculty in the department of urban planning, are leading the center's research programs as co-directors. Together, they bring a shared commitment and strong capacity to advance evidence-based and equitable environmental policies. Rounding out the team will be a new faculty director in the coming year. 
"Colleen's role at the center has been instrumental in the center's first decade of impact," said Pierce (MA UP, '11). "Her forward-thinking perspective and collaborative leadership style are ideally suited for this new role."
Callahan has launched several initiatives for the Luskin Center that connect researchers with civic partners, including the Environmental Justice Field Fellowship Program. She has also facilitated several new research endeavors, particularly in the Climate Program. Through collaborative processes with civic partners, she helped guide the state's framework for California Climate Investments in disadvantaged communities and then facilitated evaluations of some of the state's most equity-centered climate action programs. In a current project with movement leaders, she is applying learnings from California and other state experiences to advise the federal government in their climate and clean energy investments to advance goals of racial, environmental and economic justice.
When she's not working, you can find Callahan trying to instill environmental stewardship to her son and daughter through gardening, composting and giving them zero-emission rides by bike, wagon and more. She lives in Culver City and feels fortunate to be able to walk her kids to their local public school and parks.
"Everyone should be able to live in high opportunity areas with easy access to environmental and other public services. The fact that this is not guaranteed, especially for low-income households and people of color, means we still have a lot of work to do," said Callahan, who brings 18 years of experience in social entrepreneurship, environmental policy and urban planning to her new role.  
Previously, she directed UCLA's Leaders in Sustainability (LiS) Graduate Certificate Program. Before coming to UCLA, she co-founded the Los Angeles Sustainability Collaborative, which has since folded into LiS, and established the L.A. office of the American Lung Association, later serving as their local lead on clean air policy campaigns. She is a Switzer Environmental Fellow, recipient of the Neville Parker Award from the U.S. Council of University Transportation Centers and co-recipient of two national awards from the American Planning Association.