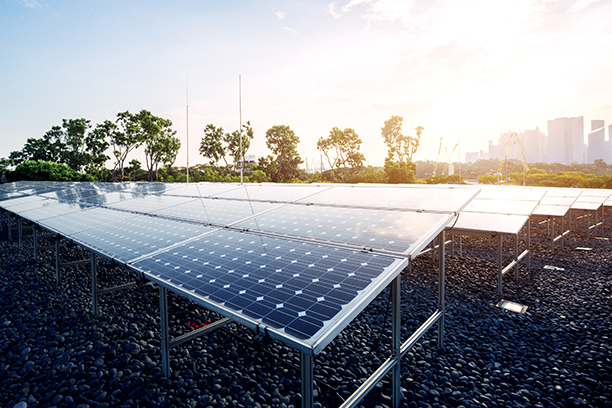 A growing number of cities are choosing to transition to 100 percent clean electricity – and dozens have already hit that target – while the list of states committed to a 100% renewable energy future also continues to grow.
This local and state demand has contributed to a near doubling of renewable energy generation in the decade since 2008, according to the U.S. Energy Information Administration. Much of the cost-effective renewable energy is coming from large, utility-scale wind, solar, and hydropower operations. Small-scale solar installations are also part of the solution and can provide local economic development, job creation, and clean air benefits.
Research by the Luskin Center for Innovation (LCI) has influenced the design and implementation of distributed energy policy and investments in leading cities and states, like California. We focus on helping to bring renewable energy to all types of communities, including low-income areas disproportionately impacted by pollution from fossil-fuel powered energy and transportation. (See our Transportation Program page for research on transportation electrification.) Our renewable energy-focused research includes the following projects.
UCLA researchers: Gregory Pierce, Kelly Trumbull, and Dan Coffee
LCI is analyzing more than a dozen energy affordability metrics and policies, coupled with an assessment of the legal landscape, to make recommendations to the LA Department of Water and Power to help the city achieve its goal of producing all of its energy from carbon-free and renewable energy sources by 2035 in an equitable manner that maximizes benefits for low-income Angelenos.
(2021 report)
Authors: Kelly Trumbull and J.R. DeShazo
This report, supported by the Los Angeles Cleantech Incubator and the California Energy Commission, examines disparities in energy consumption and clean energy access across Southern California. The study highlights the importance of targeting investments in lower-income, disadvantaged, and heat-burdened communities, both to advance equity and to encourage emissions reductions. While overall clean energy access is unevenly spread among residents, the researchers find that electric vehicle charging stations are more equitably distributed — an outcome policymakers can learn from when ramping up rooftop solar and energy storage programs.
(2019 report released at the national 

Summit

 on this same topic)
Authors: Kelly Trumbull, Colleen Callahan, Sarah Goldmuntz, and Michelle Einstein
This publication embodies the first-ever progress report on 100% clean energy policies in the U.S. It was released at the Summit on State and Local Progress Toward 100% Clean Energy. Nearly 300 leaders from 30 states participated in this first-of-its-kind national event hosted by LCI on November 6, 2019.
This report examines the progress that has been made toward 100% clean electricity, focusing on noteworthy features of the 100% clean energy policies and achievements at the state and local levels across the U.S. Findings include that one in three Americans lives in a city or state that has committed to, or already achieved, 100% clean electricity.
Forbes, Greentech Media, EENews, and Capitol Weekly, among other national media sources, featured articles about this groundbreaking research and related Summit.
(2017 report)
Authors: J.R. DeShazo, Michael Kadish, and Alex Turek
While Los Angeles County is a national leader in the adoption of residential solar, most early adopters are affluent households who can afford the up-front investment cost, a common technology adoption trend that has resulted in an inequitable distribution of solar and its benefits. Yet low-income households typically spend a higher percentage of their income on energy costs and thus stand to benefit most from utility bill savings associated with solar systems. A report by LCI and GRID Alternatives assesses the barriers to solar adoption for low-income residents and provides a roadmap for how they could be overcome by unlocking millions of dollars in state incentives for residential solar on affordable housing.
(2015 report)

Authors:  J.R. DeShazo, Alex Turek, and Michael Samulon
Community solar continues to spread across the country for solar access and environmental equity reasons. This LCI report identifies and clarifies important junctures in decision-making when utilities design a community solar program. This includes the importance of garnering support from potential participants, non-participating ratepayers, and the community at large.
(2014 report)
Authors: Colleen Callahan, J.R. DeShazo, Henry McCann, and Norman Wong
In response to, and recognized by President Obama's Climate Data Initiative, the UCLA Luskin Center and Environmental Defense Fund released the latest version of the Los Angeles Solar and Efficiency Report (LASER). LASER is a data-driven mapping tool designed to help communities identify opportunities to invest in projects that will save households money, create clean energy jobs, and strengthen climate resilience. The tool illustrates existing pollution and climate change impacts at a community level and illustrates "hot spots" ripe for rooftop solar investment and energy efficiency building potential at the parcel level.
(2013 report)
Authors: Ryan Matulka, J.R. DeShazo, and Colleen Callahan
The San Pedro Bay Ports, comprising the Ports of Los Angeles and Long Beach, are the two busiest ports in the U.S. The Aquamarine Institute, with support from the San Pedro Bay Ports, commissioned LCI to create a framework to study electricity consumption and evaluate energy management strategies at the San Pedro Bay Ports. The report served as a foundation for future energy management planning by the San Pedro Bay Ports, including energy efficiency and local energy generation.
(2013 report)
Authors: J.R. DeShazo, Colleen Callahan, and Elizabeth Beryt
The California Clean Energy Jobs Act (Proposition 39), passed by voters in November of 2012, allocates up to $550 million per year for five years to energy efficiency and clean energy projects in California's public schools, community colleges, universities, and other public facilities. An LCI report, commissioned by the Los Angeles Business Council, analyzed strategies for the implementation of Proposition 39 funds to help maximize long-term investment in energy efficiency and clean energy, and the associated jobs and other benefits for Californians. The authors found that Proposition 39 funds could quadruple through the use of revolving investment mechanisms. The research helped informed actions on Proposition 39 funds and other related campaigns.
(2011 tool)
Authors: J.R. DeShazo, Ryan Matulka, and Norman Wong
This atlas has helped cities, electricity utilities, and potential solar investors understand their solar rooftop potential so that they may be better stewards of the resource. Each map presents the geographical distribution of solar potential across neighborhoods and parcels. The maps are accompanied by a description of how the solar potential varies across single- and multi-family residences, commercial and industrial parcels, and nonprofit and government parcels since the economic benefits and policy incentives may vary accordingly. Because cost-effectiveness increases with the size of a solar installation, the atlas also presents, for each jurisdiction, the number of potential solar projects by size and total rooftop potential.
Report Series Evaluating and Influencing the Design and Implementation of the Nation's Largest Solar Feed-in Tariff (FIT) Program
(2010 – 2014 reports)
Authors: See individual reports below
In partnership with the Los Angeles Business Council and CLEAN LA Coalition,  LCI produced a series of reports that informed the development, and now implementation, of the Feed-in-Tariff program offered by the Los Angeles Department of Water and Power. The largest such program in the country, it serves as a lesson for other parts of the nation while supporting the local solar workforce and economic development. Reports by LCI researchers follow.
(2014 report)
Authors from UCLA's LCI: J.R. DeShazo and Alex Turek
Authors from the University of Southern California: Manuel Pastor, Mirabai Auer, and Chad Horsford
(2014 report)
Authors: J.R. DeShazo and Alex Turek
(2011)
Authors: J.R. DeShazo, Manuel Pastor, and Mirabai Auer
(2011)
Authors: J.R. DeShazo, Manuel Pastor, Mirabai Auer, Vanessa Carter, and Nicholas Vartanian
(2011)
Authors: J.R. DeShazo and Ryan Matulka
(2010)
Authors: J.R. DeShazo and Ryan Matulka
(2010)
Authors: J.R. DeShazo and Ryan Matulka