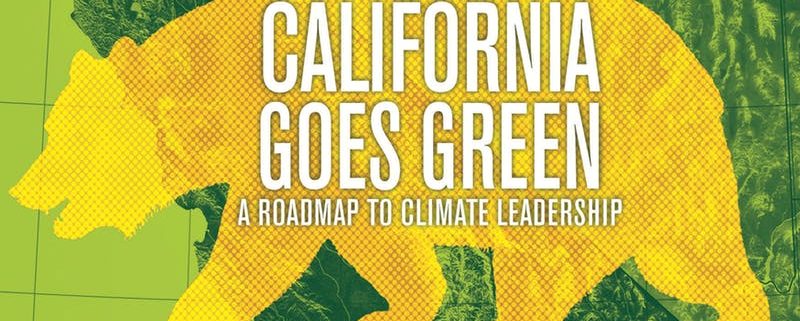 REGISTRATION IS AT CAPACITY
Join the UCLA Luskin Center for Innovation in welcoming Michael Peevey and Diane Wittenberg to discuss their book California Goes Green.
The evening event will include a reception, presentation, panel discussion, author Q&A, and book signing.
Featured speakers:
Michael Peevey, former president of the California Public Utilities Commission
Diane Wittenberg, former founding executive director of the Climate Registry and former executive director of the Plug-in Electric Vehicles Collaborative
Panelists:
Ann Carlson, UCLA Emmett Institute on Climate Change and the Environment
J.R. DeShazo, UCLA Luskin Center for Innovation (moderator);
Fran Pavley, Former CA State Senator;
Mark Pisano, USC Price School of Public Policy
ABOUT THE BOOK
California is leading the way on climate change policy, forging a path towards a low carbon future. In this debut policy book, authors Michael Peevey and Diane Wittenberg draw on their time overseeing state agencies to offer an inside perspective on the development of environmental regulations under both Democratic and Republican leadership. The book explores California's unique experience with smog and resulting efforts to clean the air, solar energy subsidies, climate policies and "subnational" climate agreements as well as the broader impact the state's regulations have because of the size of its economy.
ABOUT THE AUTHORS
Michael R. Peevey has played a pivotal role in California's energy revolution providing dynamic leadership as a corporate officer in a Fortune 500 company, an entrepreneur and president of California's most powerful energy regulatory agency, the California Public Utilities Commission. He earned bachelor's and master's degrees in economics at the University of California, Berkeley, before starting his career as an economist in Washington, D.C. In 1973 he helped found the California Council of Environmental and Economic Balance (CCEEB), serving as president until 1984. Peevey then joined Southern California Edison Company, rising to president in 1990.
In 1995, he co-founded New Energy Ventures later sold to AES for $92 million. In 2001, Peevey became chief advisor to California, Governor Gray Davis. In 2002 Davis appointed him to the PUC and named him president. Peevey continued in that role until retiring at the end of 2014.
Diane O. Wittenberg is an influential leader in California environmental and energy policy. As the founding president of California Climate Action Registry, she led the development of the first-ever greenhouse gas accounting and inventory reporting standards and advocated their adoption by 41 U.S. states, the 12 Canadian provinces and six Mexican states. In 2011, Wittenberg became the first executive director of the PEV Collaborative, a public-private partnership to promote sales of electric vehicles in California.
Wittenberg started her career at Southern California Edison in 1985, rising to vice president of corporate communications for the electric utility and its holding company, Edison International (EIX). She also was president of a non-regulated EIX subsidiary, Edison EV and currently she is chair of the California State Parks and Recreation Commission appointed by Governor Jerry Brown.