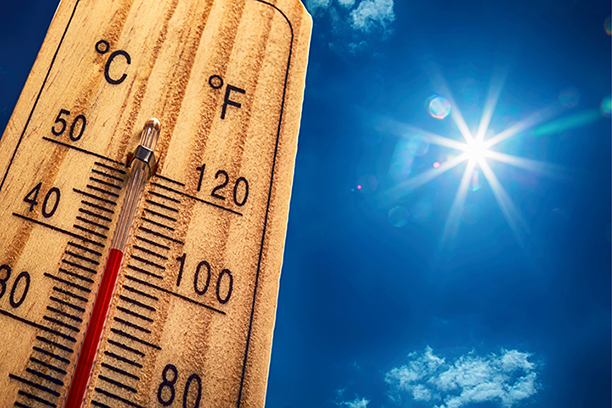 Climate adaptation is an urgent policy priority. As local, state, and national governments confront the reality of a rapidly changing climate, they face the challenge of designing policies to create resilient communities.
The initiative focuses on research that can deliver data-driven insights in a rapidly evolving policy landscape. Current research includes assessments of heat-related risks faced by workers, low-income households, students, and expecting mothers. The research is linked through themes of:
Labor, Learning, and Adaptation Equity
Public Health
Housing and Planning
Distributional Equity
Land Use and Urban Design
Labor, Learning, and Adaptation Equity 
Led by R. Jisung Park
(Fact sheet summarizing a 2020

 

journal article

; update to the 

Heat and Learning

 2018 National Bureau of Economic Research working paper)
Authors: Joshua Goodman, Michael Hurwitz, Jisung Park, and Jonathan Smith
This research quantifies how cumulative heat exposure affects learning. Without air conditioning, a 1°F hotter school year reduces student learning by 1 percent. The researchers also identify how school air conditioning can mitigate this effect, and that low-income and minorities students have less access to adequate air conditioning, contributing to the racial achievement gap.
This research garnered over 100 media stories including: an op-ed in USA Today, and coverage by PBS News, The Washington Post, TalkPoverty, KPCC Radio, ClimateWire, and America Adapts, among many other major outlets.
This study provides the first estimates of the impact of hot temperatures on high-stakes exam performance and subsequent educational attainments. Hot days reduce performance by up to 15 percent and have persistent effects on high school graduate status, despite what appears to be compensatory responses by teachers.
Media coverage: The New York Times, BBC News, The 74 Million, Joongang Ilbo (Korean Daily) 
(2018 working paper as part of broader ongoing study)
Authors: Jisung Park and Patrick Behrer
This study explores heat-related labor impacts to understand the role of adaptation in response to climate change. This research is partially funded by the California Strategic Growth Council as part of its new Climate Change Research Program.
For more information, see the Climate Adaptation and Equity Initiative, led by R. Jisung Park. This initiative seeks to understand of how climate change can affect vulnerable populations – including low-income households and workers exposed to climate-related occupational hazards – and inform actions to increase community-driven resiliency.
Public Health 
(2019 journal article)
Authors: Alan Barreca and Jessamyn Schaller
This study links early childbirths to hotter temperatures due to climate change. Published in the journal Nature Climate Change, the study also received press coverage by CNN, TIME, The Conversation and USA Today, among others.
(2018 journal article)
Authors: Alan Barreca, Olivier Deschenes, and Melanie Guldi
In this study, researchers estimated the effects of temperature shocks on birth rates in the United States between 1931 and 2010. They found that global warming is making it more difficult for couples to conceive. Specifically, days with a mean temperature above 80 °F cause a large decline in birth rates eight to ten months later.
This study was published in the journal Demography as well as widely cited by the media, including CNN, Reuters, CityLab, and more.
(2016 journal article)
Authors: Alan Barreca, Karen Clay, Olivier Deschenes, Michael Greenstone, and Joseph S. Shapiro
Alan Barreca and colleagues examined the temperature-mortality relationship over the course of the 20th century. They found that the mortality impact of days exceeding 80°F declined by 75 percent, that almost the entire decline occurred after 1960, and that this is explained by the diffusion of air conditioning.
The study was published in the Journal of Political Economy and also received coverage in popular media including The Washington Post.
Housing and Planning
(2020 journal article)
Authors: C.J. Gabbe and Gregory Pierce
This study examines whether Californians living in subsidized housing are more vulnerable to extreme heat than those living in unsubsidized housing. The researchers find that subsidized housing is disproportionately located in census tracts at the intersection of high projected extreme heat days (in 2040s), heat-sensitive populations, and barriers to adaptation. These findings indicate the need for targeted housing and land use policy interventions to reduce heat vulnerability.
(2020 journal article)
Authors: C.J. Gabbe, Gregory Pierce, and Efren Oxlaj
This study focuses on the intersection of subsidized housing and wildfire hazards in California. Results show that subsidized housing is less likely than other housing types to be in the wildland-urban interface (WUI) in both metropolitan and nonmetropolitan areas. However, the magnitude of the overlap between vulnerable households and the WUI–which includes households in over 140,000 subsidized units in the WUI—justifies further research and policy action.
Distributional Equity 
(current project)
Researchers: J.R. DeShazo, Gregory Pierce, Jisung Park, Alan Barreca, C.J. Gabbe, Lolly Lim, Rachel Connolly, and Colleen Callahan
A nearly $1.5 million grant from the Strategic Growth Council to the Luskin Center for Innovation supports multiple studies of heat-related climate impacts, the factors that make populations and communities vulnerable, and opportunities to build resilience. Climate change could exacerbate inequalities, and this project will result in tools to empower communities and help government agencies target responses.
(2020 report)
Authors: Gregory Pierce and Rachel Connolly
emPOWER is a Los Angeles county-wide campaign led by Liberty Hill which funded 8 grassroots community-based organizations to connect low-income residents to a suite of clean energy, transportation, and financial assistance programs. We completed the assessment to evaluate the effects of the first year of this pilot program. Results showed that the campaign was highly successful in reaching the most impoverished and environmentally disadvantaged communities in the county, especially compared to outreach by individual existing programs. Baseline estimates of "realizable" benefits that could be accessed by emPOWER participants suggest that if even one-third of eligible individuals sign up for a small subset of ongoing bill assistance programs and remain enrolled for five years, $1.2 million in benefits could be gained by these low-income residents. The effectiveness of the emPOWER campaign as documented by this evaluation has contributed to ongoing discussions around expanding this campaign model to other counties in Southern California, and potentially statewide.
(2016 journal article)
Authors: Isabelle Anguelovski, Linda Shi, Eric Chu, Daniel Gallagher, Kian Goh, Zachary Lamb, Kara Reeve, and Hannah Teicher
LCI scholar Kian Goh and colleagues assess how the growing number climate of adaptation plans developed by cities affect the vulnerability of the urban poor. The paper, published by the Journal of Planning Education and Research, explains that land use planning for climate adaptation can exacerbate socio-spatial inequalities across diverse developmental and environmental conditions, and offer recommendations to advance equitable adaptation.
(2016 paper)
Authors: Linda Shi, Eric Chu, Isabelle Anguelovski, Alexander Aylett, Jessica Debats, Kian Goh, Todd Schenk, Karen C. Seto, David Dodman, Debra Roberts, J. Timmons Roberts, and Stacy D. VanDeveer
In this paper published by Nature Climate Change, LCI scholar Kian Goh and colleagues present a roadmap to reorient urban climate adaptation around issues of equity and justice. Recommendations include: (1) broadening participation in adaptation planning; (2) expanding adaptation to rapidly growing cities and those with low financial or institutional capacity; (3) adopting a multilevel and multi-scalar approach to adaptation planning; and (4) integrating justice into infrastructure and urban design processes.
Forthcoming publications from Dr. Goh include articles on global-urban networks of climate change adaptation in Urban Studies and the politics of urban flooding in the International Journal of Urban and Regional Research.
Land Use and Urban Design  
(2020 Journal Article)
Authors: Ariane Middel, Kelly Turner, Florian Schneider, Yujia Zhang, and Matthew Stiller
This study collected the first field temperature measurements of solar reflective pavement. It found that surface temperatures decreased as expected, but Mean Radiant Temperature (MRT, a proxy for human thermal comfort) increases midday. It forefronts the importance of planning context when siting cooling interventions. It was awarded best paper of 2020 by the Climate Specialty Group of the Association of American Geographers.
(Current projects)


Led by: Kelly Turner

A series of projects, led by LCI associate director Dr. V. Kelly Turner, are investigating the heat regulating benefits of urban design interventions at the streetscape and other local levels. Urban design interventions include shade coverage, tree planting, and solar reflecting surfaces. Current projects in this area include:
Adapting to a Hotter Future in the Transformative Climate Communities.

Through a unique blend of micro-scale heat modelling, the design and installation of outdoor shade structures, and community participation to inform these efforts, this series of projects investigates the heat ameliorating benefits of urban greening and other cooling interventions in Transformative Climate Communities—Watts, Ontario, and Fresno, Pacoima–and Oasis, California. This study is funded by the California Strategic Growth Council's Climate Change Research Program, the UCLA Faculty Career Award, TCC Pacoima Community Partners, and the Luskin Center for Innovation. The broader aim is to produce community-led and cost effective design solutions that can cool neighborhoods and improve thermal comfort, and to transfer this knowledge to inform planning efforts throughout California.

Cool Pavement: Untangling Heat Outcome Trade-offs. This study collected the first field measurements of Mean Radiant Temperature (MRT, a proxy for human thermal comfort), air and surface temperature, and incoming long wave and outgoing shortwave radiation.
Cool Art. Internationally renowned artist Eric Skotnes, from the art collective INDECLINE, painted the first large-scale, street art piece using solar reflective paint to raise awareness about rising temperatures in cities. The project on a 1920s-era building in South Los Angeles makes a double visual impact – as an elegant eco-mural that enlivens the community and also as an infrared image documented by thermal camera. This project is a collaboration with art historian Lizy Dastin, with primary funding from the Luskin Center for Innovation. See the news story.
Comparing Heat Outcomes Between New Urbanism and Sprawl. This project investigates the microclimate differences attributable to design. It investigates Civano, a planned neighborhood in suburban Tucson, Arizona, and two adjacent communities, Sierra Morado (green building, conventional subdivision design) and Mesquite Ranch (conventional subdivision buildings and design). It finds that New Urbanist design reduces neighborhood land surface temperatures by 1-3 C, and that these findings hold for all seasons, day and night. Assessment of thermal comfort is underway. See the paper Addressing Climate Change through Design and related article in The Professional Geographer.
For more information, see the Los Angeles Integrative Nature and Design (LindA) Collaborative, led by Professor V. Kelly Turner. LindA involves an interdisciplinary group of researchers investigating urban design interventions. The goal is to identify what local-scale interventions can best help cities address the impacts of climate change.
Retreat: Moving to Higher Ground in a Climate-Changed City
(forthcoming book)
Author: Liz Koslov
LCI scholar Liz Koslov's book Retreat: Moving to Higher Ground in a Climate-Changed City is an ethnographic account of community-organized retreat from the coast in New York City after Hurricane Sandy. The book, under advance contract with the University of Chicago Press, highlights Dr. Koslov's examination of the social impacts of buyouts, a form of property acquisition in which houses and lots are purchased from willing sellers with future development prohibited.
See the related article The Case for Retreat in Public Culture as well as the Toolbox: Planning Relocations to Protect People from Disasters and Environmental Change.
Dr. Koslov has spoken about this research in outlets that include The New Yorker, WWNO New Orleans Public Radio, and Scientific American.