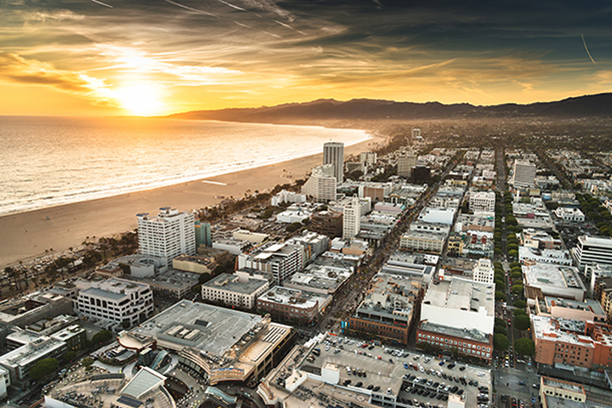 Customer choice in energy is spreading quickly. Ten U.S. states now allow cities and counties to purchase electricity on behalf of their communities — a procurement model called community choice aggregation. Local governments administer community choice aggregators (CCAs) with the mission to reflect community preferences for energy procurement and energy programs.
The UCLA Luskin Center for Innovation (LCI) is the leading research center tracking the emergence of CCAs in California and the rest of the nation, as well as assessing their effects including environmental performance. Examples of our work follow.
Enabling Local Support for the Transition to 100% Carbon-Free Electricity Across the United States: A Community Choice Energy Policy Brief
(Current study)
Researchers: Kelly Trumbull, Gregory Pierce, and Shona Paterson
At the federal level, discussions about creating a national clean energy standard are taking place. Evidence from California has shown that enabling grassroots demand for clean energy can help to accelerate the achievement of such clean energy goals. A recent LCI report found that community choice aggregators (CCAs), a type of local, public electricity provider, are an effective tool to enabling this grassroots energy demand. This policy brief, supported by the Rockefeller Brothers Fund, will describe existing and proposed CCA legislation in order to provide a useful summary of where and how local support for supporting the clean energy transition is currently enabled.
(2020 report)
Authors: Kelly Trumbull, Julien Gattaciecca, and JR DeShazo
Despite a lack of action at the federal level, the transition to carbon-free energy is becoming a reality across the United States. At the local level, community choice aggregators (CCAs) — which offer communities public control over their electricity purchasing decisions — are accelerating this transition. Through these electricity providers, member communities can choose how much renewable energy is offered to their residents and businesses. In California, CCAs have become an effective tool at enabling local climate action. This report, supported by the Rockefeller Brothers Fund, explores why and how CCAs are effectively advancing goals for carbon-free energy.
(2019 report)
Authors: Kelly Trumbull, JR DeShazo, Julien Gattaciecca, Colleen Callahan, and Michelle Einstein
An alternative model to traditional investor-owned utilities (IOUs) is gaining popularity across California and other states across the nation. When California legislators passed Assembly Bill 117 in 2002 to enable community choice aggregators (CCAs), they opened the door to more competition among retail electricity providers. Between 2010 and 2019, 19 CCAs have launched in California. More than 160 towns, cities, and counties have joined one of these 19 CCAs.
LCI researchers find that 64 of these communities that have joined a CCA now have 100% renewable or clean energy as their default energy product, and that the vast majority of ratepayers automatically enrolled in a CCA decide to remain with that CCAs and its 100% clean energy product. This allows us to conclude that since 2019, 64 communities in California have transitioned to 100% clean energy — the largest concentration of communities that have met this transformational goal in the U.S.
This report debuted at the first ever national Summit on State and Local Progress toward 100% Clean Energy. Forbes, Greentech Media, and Capitol Weekly, among other national media sources, featured articles about the groundbreaking research and related Summit.
(2019 report)
Authors from LCI: Julien Gattaciecca and Kelly Trumbull
Authors from the National Renewable Energy Laboratory: Eric O'Shaughnessy, Jenny Heeter, Jenny Sauer, and Emily Chen
A new report by the NREL and LCI assesses the growth of CCAs and their impact on renewable energy, as part of the first nationwide CCA study by federal and academic researchers. Currently, eight states allow cities and counties to purchase electricity on behalf of their communities. More than 750 CCAs procure electricity to several millions of customers in the U.S. The researcher found that most of these CCAs formed with the goal of reducing electricity costs for ratepayers, while others focus on realizing their customers' preferences for clean energy. In 2017, 100 CCAs cumulatively procured more than three times the amount of renewable energy than is required by state policy.
(2018 report)
Authors: Julien Gattaciecca, Kelly Trumbull, and J.R. DeShazo
In this report, LCI researchers estimated that CCAs could serve a majority of IOUs' power customers by 2030. This would transform the retail electricity sector across California. CCAs are already increasing the amount of renewable energy on the grid, and this could further systemwide reliability challenges. The report, produced by the nonprofit organization Next 10, concluded that due to the local and public nature of these entities, CCAs are well positioned to address some grid challenges through local energy programs and their ability to coordinate closely with customers.
This research was featured in Forbes, Renewable Energy World, and Rapid Shift, among others.
(2017 report)
Authors: Julien Gattaciecca, Kelly Trumbull, and J.R. DeShazo
This LCI study analyzed three CCA options to support decision-making for the City of Santa Monica and other municipalities considering community choice energy. The research helped inform Santa Monica's decision to join the Clean Power Alliance (formerly called Los Angeles Community Choice Energy), a new, locally-operated electricity provider in Los Angeles and Ventura counties. Clean Power Alliance gives Southern California Edison customers the option of clean energy purchased by Clean Power Alliance and delivered by Southern California Edison.
(2017 report)
Authors: Julien Gattaciecca, J.R. DeShazo, and Kelly Trumbull
This first-of-its-kind report assessed the performance of the first eight CCAs in California and looked ahead to the promises, challenges, and broader implications for CCAs if current CCA growth trends continue. LCI researchers specifically assessed CCA performance and promise using metrics including: renewable energy, local programming, prices, and community engagement.