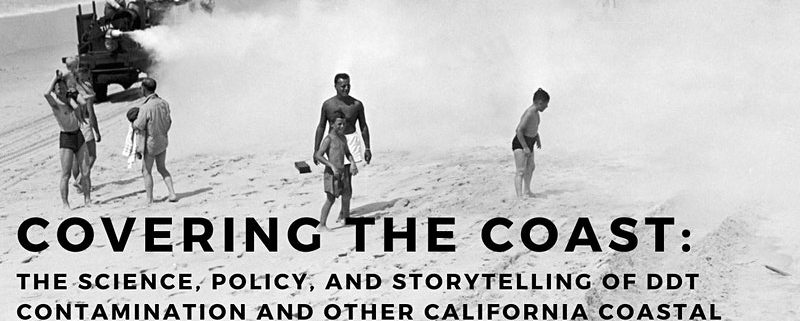 Join the UCLA Water Resources Group for a conversation about the legacy of ocean pollution on the California coast in an era of climate change and other stressors.
Rosanna Xia will discuss her work as an environmental reporter and storyteller for the Los Angeles Times, including the story she broke in the fall about decades of previously unknown DDT dumping in the Catalina Channel.
In the second part of the event, Mark Gold (Deputy Secretary, Coast and Oceans, California Natural Resources Agency) and Sean Hecht (Faculty, UCLA Law School) will join to discuss the implications of this DDT dumping ground and what can be done about it. Jon Christensen (Professor at the UCLA Institute of Environment and Sustainability) will moderate both conversations.
Zoom link will be emailed to registered attendees prior to the event!
Co-sponsored by:
The Graduate Student Environmental Humanities Research Group at UCLA
The Graduate Student Water Resources Group at UCLA
UCLA Laboratory for Environmental Narrative Strategies (LENS)
UCLA Water Resource Group at the Institute of the Environment and Sustainability
UCLA Law School
UCLA Emmett Institute on Climate Change and the Environment
Heal the Bay
Speaker bios
Rosanna Xia is an environment reporter for the Los Angeles Times. She covers the coast and has written about sea level rise, toxic dumping and endangered species in the deep ocean. Her stories connect science and policy and have led to new laws and regulations. She was a Pulitzer Prize finalist in 2020 for explanatory reporting.
Mark Gold is Executive Director of OPC and the Deputy Secretary for Ocean and Coastal Policy for the California Natural Resources Agency. He serves as a key advisor to Governor Newsom and the Secretary of Natural Resources and directs policy, scientific research, and critical partnerships to increase protection of coastal and ocean resources in California.
Sean B. Hecht is the Co-Executive Director of the Emmett Institute on Climate Change and the Environment, and Evan Frankel Professor of Policy and Practice, at UCLA School of Law. He works with students to serve environmental organizations and government agencies in his role as co-director of the Frank G. Wells Environmental Law Clinic.
Jon Christensen teaches and conducts multidisciplinary research at UCLA focusing on equity and the environment, strategic environmental communication, and journalism, media, and storytelling. He is an adjunct assistant professor in the Institute of the Environment and Sustainability, Luskin Center for Innovation, Department of History, and Center for Digital Humanities at UCLA.