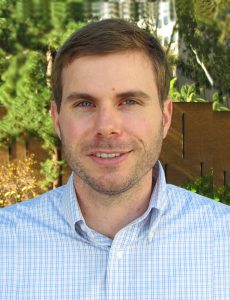 Gregory Pierce
Associate Director
Email: gpierce@luskin.ucla.edu
Phone: (310) 267-5435
Twitter: @gregspierce
---
Greg Pierce is the Associate Director of the Luskin Center for Innovation and serves as a Senior Researcher, leading our Water, Environmental Equity and Transportation programs. He is also an Adjunct Assistant Professor in the Department of Urban Planning. Greg received a PhD in Urban Planning in 2015 and an MA in Urban Planning in 2011, both from UCLA. 
Dr. Pierce's research on basic resource/service provision and access for disadvantaged or marginalized populations takes place at three connected scales, with sectoral foci on water and transport. At the sub-national or state scale, Dr. Pierce employs formal policy design techniques to evaluate and inform service provision strategies formulated by national sub-national agencies. At the metropolitan scale, political economy analysis is employed to assess programs and plans which allocate services to specific neighborhoods and households. Finally, in response to sub-national and metropolitan scale failures, Dr. Pierce's research utilizes rational choice and behavior models to analyze low-income urban and households strategies to secure access to and utilize these basic services and programs. 
Current and past sponsors of this work include the California State Water Resources Control Board, the California Air Resources Board, the Strategic Growth Council, the U.S. Housing and Urban Development Department, WaterAid, the Water Foundation, The Resources Legacy Fund, Environment Now, the DiCaprio Foundation, the World Bank, the UC Multicampus Research Initiative, the UC Institute of Transportation Studies and the UCLA Grand Challenge.
Greg is the author of 30+ peer-reviewed articles, including in the Journal of the American Planning Association, the Journal of Planning Education and Research, the Journal of Planning Literature, Environmental Justice, Journal of Environmental Planning, Science of the Total Environment, Water Resources Research, Development Policy Review, the Journal of International Development, Housing Policy Debate, Land Use Policy, Transport Policy and Water Policy. 
For more information regarding his research, see here. For Greg's full CV, see here.