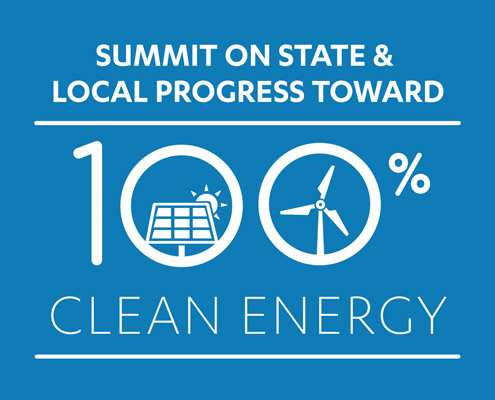 Despite Federal Inaction, 100% Clean Energy is Becoming Reality Across the US
Gathering of leaders from 30 states reflects growing momentum
UCLA Luskin Center for Innovation convenes policymakers, utility experts, advocates, & scholars for first-ever Summit on State & Local Progress Toward 100% Clean Energy
LOS ANGELES – The first-ever Summit on State & Local Progress Toward 100% Clean Energy  occurs at UCLA on November 6th from 1:00 to 6:00 pm. Participants from 30 states will learn about the latest research, share success stories, and discuss how to overcome barriers on the road to carbon-free energy. The event will be live broadcasted, here.
"The lack of leadership at the national level has forced states, cities and counties to take the lead and fight for their own public health," said Kevin de León, author of California's 100% clean energy mandate during his tenure as California Senator pro Tempore, who is hosting the summit with the UCLA Luskin Center for Innovation (LCI), where he is Policymaker-in-Residence. "This summit offers a chance for state and local leaders from around the country and across the political spectrum to learn from each other's experiences and accelerate momentum toward 100% clean energy, so we can all breathe free."
Evidence of that momentum can be found in a white paper LCI is releasing at the summit. Researchers found that more than 70 American communities — from California to Kansas and from Alaska to Texas — are already powered by 100% clean electricity. All 70 of the cities and counties that are already powered by 100% clean electricity have local, public control over their electricity purchasing decisions.
Building upon data from the Sierra Club, UCLA researchers found that more than 200 cities and counties, 11 states, plus Puerto Rico and the District of Columbia have committed to, or have already achieved, 100% clean energy.
"We find that more than one in every three Americans lives in a community or state that is transitioning to or has already achieved 100% clean energy," said LCI Director JR DeShazo.
The Luskin Center for Innovation — a policy-oriented research center uniting UCLA scholars with civic leaders to solve environmental challenges — also is releasing a white paper on the more than 65 California cities and counties that are already powered by 100% clean electricity. Researchers found that all but two of those communities are served by a community choice aggregator, or CCA.
"CCAs empower municipalities to buy clean energy on behalf of their residents and businesses in areas served by a traditional investor-owned utility," said LCI's Kelly Trumbull, who wrote the report with LCI colleagues including Julien Gattaciecca. "CCAs offer a way for communities to put their desire for clean energy into action. They're growing fast in California, one of only eight states where this kind of mechanism is allowed. State and federal policies could be reformed to better enable communities to meet local demand for renewable energy."
Speakers at the event included statehouse legislators from Rep. Patricia Roybal Caballero, a New Mexico Democrat; to former Sen. Chuck Mcilhinney, a Pennsylvania Republican; as well as utility experts and NGO leaders.
The event will be live broadcasted, here. The video recording will be posted on the Summit's website, here.