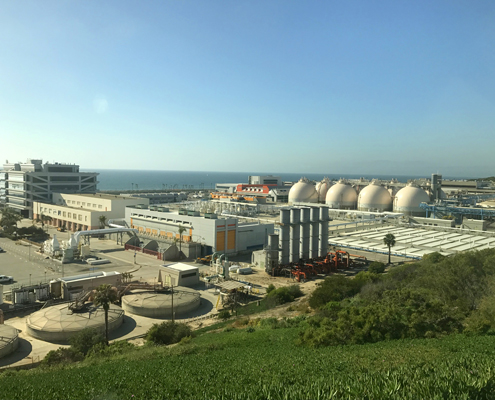 Enhancing the Resiliency of L.A.'s Water Supply through Recycling
Photo: The Hyperion Water Reclamation Plant, located near Los Angeles International Airport. Photo credit: Erik Avila, Civil Engineering Associate at Los Angeles Department of Water and Power
As part of UCLA's Sustainable Grand Challenge, the Luskin Center for Innovation is analyzing a plan to recycle all of L.A.'s wastewater by 2035, a project that could be the largest capital water project investment in L.A. this century
By: Colleen Callahan
Analysis by the UCLA Luskin Center for Innovation (LCI) is underway in support of Los Angeles' goal to recycle all wastewater by 2035 and use it to replenish local groundwater and reduce the need to import water.
"Using recycled water is the next major step in Southern California to ensure needed resiliency against future droughts and earthquakes," said Nicholas Chow MSc Civil and Environmental Engineering `16, water engineering project manager for LCI. "Our study could inform construction of a pipeline that provides millions of customers with a new source of clean water."
According to an announcement by Los Angeles Mayor Eric Garcetti in 2019, the city will stop discarding wastewater to the ocean and instead recycle that water for beneficial use. The plan to meet this goal centers on the Hyperion Water Reclamation Plant, which is the largest wastewater treatment facility west of the Mississippi River. Hyperion receives the vast majority of the city's total wastewater but currently recycles only 27%. The rest goes into the Pacific Ocean.
The LCI researchers are assessing a proposed Hyperion reuse and groundwater development project that would include construction of $2 billion worth of infrastructure over a decade in order to achieve the city's 2035 implementation goal. Experts say this project may become the largest capital water project investment for Los Angeles during the 21st century.
In announcing the project, Garcetti framed the effort as L.A.'s next "Mulholland moment," a reference to the legacy of water chief William Mulholland and the Los Angeles Aqueduct, which opened more than 100 years ago and helped create modern Los Angeles by redirecting water from the Owens Valley hundreds of miles away. City leaders now have an opposite ─ reducing the amount of water imported from far-away.
"Maximizing L.A.'s recycling capacity will increase the amount of water we source locally and help to ensure that Angelenos can count on access to clean water for generations to come," Garcetti said in his announcement.
The objective of the UCLA study is to estimate the project's value — specifically, how investing now in recycled water might avoid future costs for rate-paying households and businesses. Researchers are factoring in droughts, seismic events and the rising price of imported water, all of which threaten L.A.'s water supplies.
Commissioned by the Los Angeles Department of Water and Power (LADWP), the agency responsible for maximizing beneficial use of water treated at the Hyperion plant, the UCLA study is being conducted in collaboration with L.A. Sanitation and Environment, which operates the Hyperion plant. Specifically, the research is funded through an agreement between the LADWP and the UCLA Sustainable LA Grand Challenge (SLA GC). It is one of several projects funded through this agreement that are advancing the sustainability goals of both DWP and the SLA GC, as we work together to ensure a clean and resilient water and energy supply for Los Angeles.