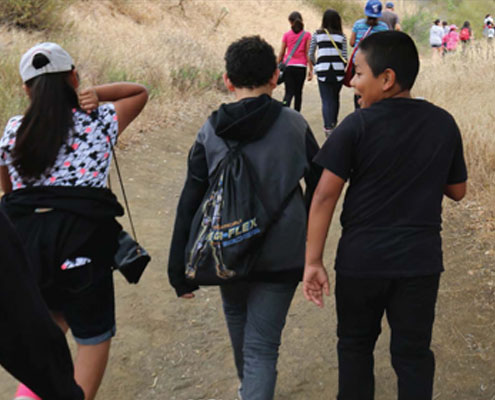 Understanding the Needs of Diverse Park Users
UCLA in collaboration with the National Park Service releases results of a visitor survey in the world's largest urban national park, the Santa Monica Mountains Recreation Area
How can stewards of public parks best serve the needs of diverse communities? To address this question, the National Park Service partnered with the UCLA Luskin Center for Innovation to survey users of the world's largest urban national park, the Santa Monica Mountains National Recreation Area. It is also the largest natural resource in the economically, culturally, and socially diverse Los Angeles region.
UCLA researchers and volunteers worked with the National Park Service to survey over 4,000 people at 45 trailheads and park entrances spread throughout the vast Santa Monica Mountains National Recreation Area (SMMNRA). A new report and briefing paper released by the Luskin Center for Innovation features results of this survey. The publications examine the patterns and needs of a diverse array of SMMNRA park users to inform how to meet their needs, with broader implications to inform park planning elsewhere.
The analysis has a focus on park equity and access in Los Angeles County. Researchers analyzed equity and access along five key dimensions: visitor demographics and geographic characteristics of visitors; travel distance, time, and cost; modes of park access; activity engagement; and amenities used or desired. The results reveal that visitors to the nation's largest urban national park would like to see improvements made to bathrooms, drinking fountains, trash cans and maps of trailheads and trails. Comparing results from the 2018 survey to the last survey of SMMNRA users conducted in 2002, finds that users of this national recreation area have become more diverse. Specific findings include:
The proportion of Latino survey takers increased from 12% in 2002 to over 21% in 2018.
The percentage of survey participants in 2018 increased for all non-white races/ethnicities from 2002, with a near doubling of the percentage of Latino visitors who responded to the survey.
Nearly 74% of all ZIP codes across Los Angeles County and Ventura County had at least one survey respondent, indicating that residents from nearly all parts of this region utilize the largest urban park in the nation.
63% of survey respondents were non-Hispanic white, compared to 26.1% of Los Angeles County as a whole
The median household income of respondents was between $75-100,000, compared to roughly $61,000 in Los Angeles County.
The low percentage of public transit visitors indicates that this mode is either limited, inconvenient, or not preferred.
"This survey is helpful because it provides us with vital information that will inform us in how we strategically allocate resources at park trailheads," said David Szymanski, the park superintendent. "It also provides us with a benchmark for additional trailheads we may want to construct in the future."
Parks and green space provide numerous environmental and social benefits, including improvements in habitat provision, air quality, physical and mental health for visitors, and more. While Los Angeles County has myriad parks and open space resources, including the SMMNRA, that provide such benefits, the 2015 Los Angeles County Parks Needs Assessment identified many other areas of high and very high park need in the county.
Following this assessment, the Los Angeles County Board of Supervisors voted to place a parks funding measure on the November 2016 ballot.[1] County voters overwhelmingly approved the Safe, Clean Neighborhood Parks & Beaches Measure (Measure A), signaling widespread public support for investment in local and regional parks and recreation. This funding stream provides a tremendous opportunity to strategically expand the depth and breadth of park opportunities in the region.
UCLA's publications on the SMMNRA user survey can help inform implementation of Measure A. In addition, the UCLA Luskin Center for Innovation is supporting key elements of the Measure A Urban Parks Technical Assistance Program, to help provide resources to communities in need of better park access. This work is led by the Los Angeles County Regional Parks and Open Space District, the agency in charge of implementing Measure A.
Photos of the UCLA team of staff, volunteers and NPS collaborators conducting the user survey at a trailhead in the Santa Monica Mountains National Recreation Area. Photo credit: George Foulsham.
[1]See http://rposd.lacounty.gov/2016-ballot-measure/ for more information.