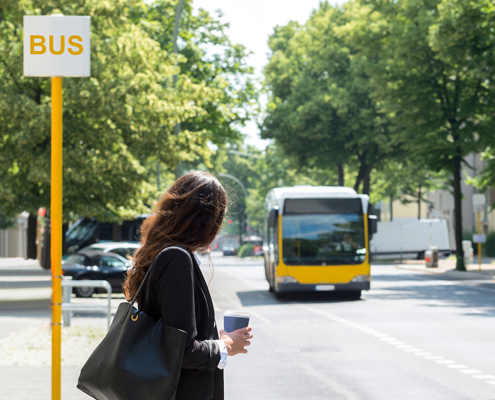 Grant Funds Research Into Heat-Resilient Streetscapes
When it comes to beating the Southern California heat, small-scale interventions can have a big impact. If you've ever waited for the bus on a hot summer day, you've felt how a shady tree or a covered bus shelter can help keep you cool. Despite these tangible benefits, few studies have focused on micro-scale, or street-level, interventions to reduce heat for pedestrians and transit riders.
A new grant from the California Strategic Growth Council will fund a UCLA Luskin Center for Innovation analysis of these micro-scale cooling strategies to mitigate heat at bus stops and other streetscapes. V. Kelly Turner, assistant professor of urban planning and associate director of the Center for Innovation, will lead the project, which aims to empower communities, particularly disadvantaged and heat-vulnerable communities, to cost-effectively design cooling solutions for pedestrians and transit riders. This focus on active transportation can help reduce greenhouse gas emissions and local pollution while creating climate-resilient neighborhoods.
Community-engaged research will center on four historically disadvantaged areas that are vulnerable to extreme heat — Pacoima, Watts/South Los Angeles, Ontario/Inland Valley and Oasis/Coachella Valley. These communities represent a range of climate zones and built environment forms in Southern California.
The project, part of the Center for Innovation's large body of climate adaptation and resiliency research, will also leverage ongoing partnerships among UCLA, Kounkuey Design Initiative and the state's Transformative Climate Communities program.