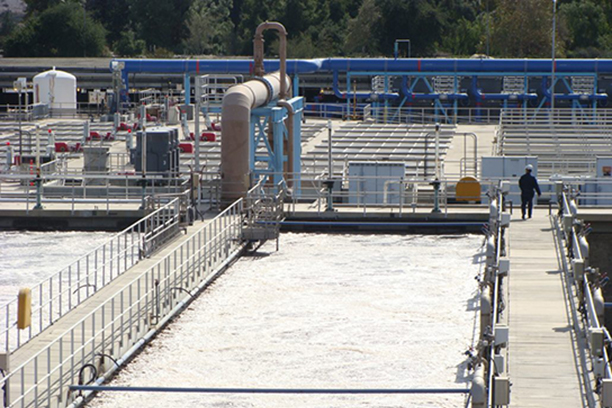 Droughts are already a recurring feature in California, and climate change will make water supplies even less reliable in a variety of ways. Most of the water used in the mega population centers of California, the world's fifth-largest economy, comes from critically over-drafted groundwater supplies, or imported water reliant on snow pack that climate scientists forecast will significantly decrease over the next century.
Changes in procuring water supplies will impact not only water agencies and household water bills, but also the energy grid. To prepare for these shifts and the ever-growing population, communities across California see the need for a resilient, more locally-reliant water future. Multi-pronged strategies to achieve this include decreasing imported water demand through water conservation or local markets and increasing local water supply through water recycling and expanded capture and use of stormwater.
The Luskin Center for Innovation (LCI) conducts research to expand local water opportunities, such as through the following projects.
(Current project)
Researchers: J.R. DeShazo and Nicholas Chow
LCI is supporting what is expected to be one of the largest water project of the 21st century for Southern California. Mayor Eric Garcetti has pledged that the City of Los Angeles will recycle all of its wastewater by 2035 and use it to reduce the need for imported water supplies. Following this groundbreaking announcement in 2019, Los Angeles committed to recycling all of the wastewater that it manages at the Hyperion Water Reclamation Plant (WRP) by the year 2035, with the goal of using it to replenish local groundwater reserves that supply customers. The Hyperion WRP is the largest wastewater facility west of the Mississippi and currently manages 260 million gallons of water per day, the majority of which is currently dumped into the Pacific Ocean after treatment.
We are assessing the proposed Hyperion reuse and groundwater development project and estimating the value of benefits for ratepayers. These benefits include avoided future costs in the event of droughts and seismic activity, which can impact the delivery of imported water. The Los Angeles Department of Water and Power has commissioned this LCI study, as part of UCLA's Sustainable Grand Challenge.
(Current project, link is to concept paper)
Researchers: Nicholas Chow, J.R. DeShazo, Brad Franklin, and Gregory Pierce
UCLA has an ambitious goal for Los Angeles County: 100 percent locally-sourced water by 2050. Currently, the vast majority of the region's water is piped in from hundreds of miles away, but new recycled water supplies could change that. With a grant from the UCLA Sustainable LA Grand Challenge, LCI is exploring a strategy to help community water systems in Los Angeles county collaborate to better utilize local water through both trading and storage.
Water systems vary greatly in their access to resources, like groundwater aquifer storage, wastewater flows, and complementary infrastructure. Increasing constraints on existing water supplies will exacerbate these differences; some systems will have access to abundant, lower-cost local water while others will face scarcity. This inequity creates the opportunity for optimum regional water management through trading. Through water sales, those systems with abundant supplies could cost-effectively provide for their own users and those in scarcity, all while generating a new revenue stream and incentivizing conservation.
LCI researchers expect that achieving greater local water reliance through trading could result in significant cost and water supply benefits for both water agencies and households.
(Current project)
Researchers: Nicholas Chow and J.R. DeShazo
In the face of climate variability and droughts, California cities are increasingly seeing the value in developing local recycled water. In Southern California, where a significant portion of water supplies are imported, water recycling reduces the need to transport water long distance. However, energy intensive technologies and jurisdictional limitations may overshadow this benefit and present expensive challenges.
The California Energy Commission, in concert with the U.S. Department of Energy and the U.S.-China Clean Energy Research Center, awarded LCI part of a $1.1 million grant to study the energy intensity of recycled water production. Specifically, LCI researchers analyzed advanced water recycling for direct potable reuse and found that this strategy could meet up to 57% of the water needs in Los Angeles County, while providing statewide energy savings. Additional analyses have also considered how electricity cost and greenhouse gas emissions may influence policy decisions around recycled water provision.
This study has already begun to inform engineering decisions at the city level and it is being iteratively improved to inform policy decisions for both the state's water and energy decision makers as they invest in and develop new regulations for advanced water recycling.
(Current project)
Researchers: Gregory Pierce and Kelsey Jessup
Water-scarce urban areas in California lose billions of gallons of fresh water each year as rain washes into storm drains and out to sea. A nearly $2 million grant-funded project seeks to transform University of California campuses into living laboratories that show how urban stormwater can safely augment water supplies and minimize flood risk. Through the research team is developing the science, engineering, and policy innovations needed to usher in a new era of treating stormwater as a resource rather than a liability.
Gregory Pierce, associate director of research for LCI, is part of a research team comprising faculty, staff, and students from all five southern University of California (UC) campuses that received the grant from UC's Multi-campus Research Programs and Initiatives. Their role on the larger team is to examine how universities compare to cities in terms of governance and financial capacity to invest in green infrastructure, and how to overcome barriers in capacity to enhance stormwater capture more broadly. The work includes a comparative analysis of how various cities are approaching stormwater capture and management, and why.
(2019 report)
By: Gregory Pierce, Nicholas Chow, Kyra Gmoser-Daskalakis, Peter Roquemore, and Nichole Heil
As many water systems consider investing in new or enhanced sources of water supply to meet their own water security goals, it is more important than ever to assess the household-level Human Right to Water (HRW) impacts of these investments. This report analyzes the likely impacts of one proposed strategy for greater local water security on environmental justice and HRW concerns in Orange County.
LCI researchers examined the likely impact of desalinated ocean water supply on the county's disadvantaged households based on a proposed agreement for Poseidon Resources LLC (Poseidon) to sell 56,000 acre feet of desalinated ocean water per year to the Orange County Water District for a period of 30 years. This report assesses the potential agreement in the context of a broader suite of water security and local water reliance strategies currently being pursued by nearly all major water suppliers across the Southern California region. This analysis can be used not only to inform public knowledge regarding the likely impacts of the Poseidon agreement, but also to evaluate the costs and benefits of various water security and local water reliance strategies in similarly water-scarce regions.
(2016 report)
Authors: J.R. DeShazo, Kelsey Jessup, and Ali Panjwani
During a historic drought that started in 2011, the Los Angeles Department of Water and Power increased, to $1.75 per square foot, the rate that property owners could receive for replacing turf with more drought resistant landscaping. A study by LCI answered two questions: Under what conditions does participation in the turf replacement program provide financial benefits to households? And is the turf replacement program a reasonably cost-effective investment for utilities and ratepayers?
Researchers used data accumulated from 2009 until 2015, during which time the City of Los Angeles spent more than $42 million on the turf replacement program. In partnership with the Metropolitan Water District, the city issued rebates for 15 million square feet of turf, saving approximately 66,000 gallons of water a year. To assess the economics of lawn replacement from the household perspective, the report measured the impact of different rebate levels, turf replacement costs, climate zones, and future expected water pricing on household financial benefits. Rebates of $1.75 result in a payback period for typical households and ratepayers of approximately 10 years, comparable to other investments such as solar. The report also calculated the payback periods for ratepayers based on varying levels of household participation in the turf replacement program and different levels of rebates.
(2013 policy and 2015 cost-benefit analyses)
Authors of 2013 policy review published by the Water Environmental Research Journal: Zita L.T. Yu, Anditya Rahardianto, J.R. DeShazo, Michael K. Stenstrom, and Yoram Cohen
Authors of 2015 cost-benefit analysis published by the Journal of the American Water Works Association: Zita L.T. Yu, J.R. DeShazo, Michael K. Stenstrom, and Yoram Cohen
The reuse of graywater has emerged as an important sector in water reuse, especially in arid regions. Defined as domestic wastewater not originated from toilets (e.g., generated from hand-washing sinks, showers, bathtubs, and washing machines), graywater can often be reused onsite without treatment for subsurface irrigation while above-ground water reuse is often allowed only when treatment is provided.
In a study supported by LCI, researchers reviewed graywater reuse regulations and guidelines within the U.S. The policies included onsite treatment requirements, use application permits, and guidelines for graywater segregation as a separate wastewater stream. The study found that regulations in the majority of states promote safe graywater reuse but that there are also inconsistencies between plumbing codes and other regulations within and among the 50 states. Easing restrictions and new guidelines to promote development of low-cost and proven treatment technologies are needed to better promote graywater reuse.
In a related study also involving LCI, researchers performed a cost-benefit analysis of onsite graywater recycling in single-family and multifamily residences, using Los Angeles as a case study. The authors compared a low-cost, wetland treatment system with a high-cost commercial treatment system in order to evaluate cost savings. The researchers found that commercial treatment options may be economically feasible only for multi-family dwellings with high water consumption. For single-family residences, a wetland treatment system was found to be cost-effective based on the amount of non-potable water generally consumed by these households.