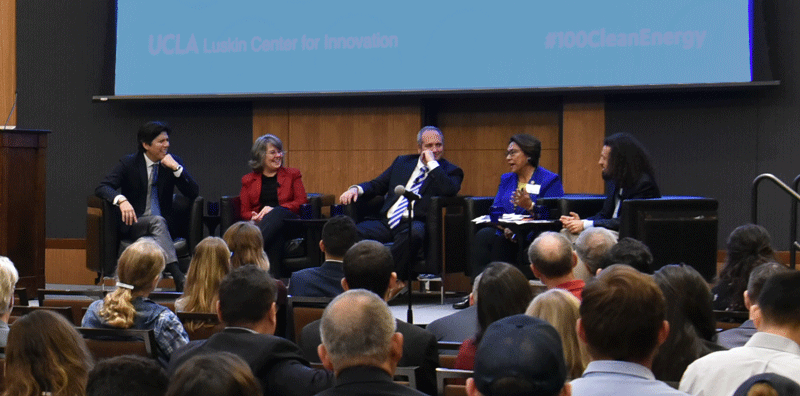 Kevin de Leon, Gael Tarleton, Chuck Mcilhinney, Patricia Roybal Caballero, and Sammy Roth
The transition to renewable electricity is accelerating across the country, and cities and states are leading the way. On November 6th, the UCLA Luskin Center for Innovation (LCI) highlighted this momentum at the Summit on State and Local Progress Toward 100% Clean Energy.
More than 250 clean energy leaders from 30 different U.S. states gathered at the first-of-its-kind national summit. Sessions featured diverse city, state, and national leaders, such as Mayor Jackie Biskupski from Salt Lake City; former Sen. Chuck Mcilhinney of Pennsylvania, the first Republican to author legislation for a state's transition to 100% clean energy; and Kevin de León, author of California's 100% clean energy mandate during his tenure as California Senator pro Tempore.
Unprecedented Progress
The transition to 100 percent clean energy is well underway, according to new research released by the LCI at the event. One in every three Americans live in a community that has committed to or already achieved 100 percent renewable energy. Seven states, plus Puerto Rico and Washington D.C., adopted 100% clean electricity transition laws. At the same time, more than 200 cities and counties have achieved or committed to 100% targets.
The majority of the 70 cities in the U.S. already powered by 100 percent clean electricity are served by a community choice aggregator, or CCA. CCAs allow localities to control their energy procurement decisions and are proving to be a powerful tool for communities to realize their local demand for renewable energy. A second report released by the LCI at the summit explores how CCAs have increased levels of renewable energy deployment, using California as a case study.
Several national media sources, including Forbes, Greentech Media, EENews, and Capitol Weekly, featured articles about the summit and these two groundbreaking reports.
Continuing the Conversation
For more information about the event, including video recordings, slides, and additional clean energy resources, visit the summit website. The LCI plans to host other conversations and conduct additional analyses in the future to expand its renewable energy and energy choice research as well as peer-to-peer learning opportunities.