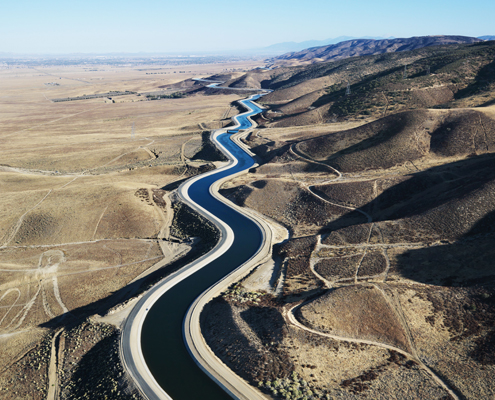 Study Identified Under-performing Water Systems in L.A. County
Progress report and policy guide provide full picture of more than 200 water systems, region-wide trends and disparities across the most populated county in the U.S.
By: Colleen Callahan
A new study by the UCLA Luskin Center for Innovation (LCI) found significant disparities in the quality, affordability and accessibility of water across Los Angeles County. However, the number of health-related water-quality violations in the county is quite low compared to other parts of Southern California, the researchers concluded.
The study evaluated the performance of the more than 200 water systems in L.A. County and compared current data to findings published in LCI's 2015 water atlas. The progress report flags interventions that may be necessary to continue improvements and address persistent problems. The County of Los Angeles, is working with state and federal agencies to respond to several systems that incurred repeated water-quality violations.
A 2012 state law (Assembly Bill 685 ) establishes that all Californians have the right to safe, affordable and accessible water – referred to as the "human right to water." Yet this right is not a reality for everyone in L.A. County, due primarily to differences in community water systems that directly provide water to residents and businesses.
"The goal is to give systems operators, regulators and residents the most current and comprehensive picture of water system performance, in order to identify what systems are in need of interventions," said Gregory Pierce, associate director of LCI and lead author on the report. "Despite momentum, urgent attention is needed to address water system problems," added Pierce, who also teaches urban planning at the UCLA Luskin School of Public Affairs.
Findings of the report include:
System performance overview: While most systems in L.A. County provide sufficient levels of safe and affordable water to their customers, many small systems – particularly mobile home parks, RV parks and mutual water systems – are most at risk for having technical, managerial and financial challenges that lead to poor outcomes related to quality, affordability and accessibility.
Governance trends: There are fewer active community water systems today than five years ago. The reduction of apparently 10% of systems in L.A. County suggests that some have consolidated, which reflects progress in reducing water system sprawl that results in many small, low-capacity systems at higher risk of un­derperformance.
Quality trends: Compared to other counties in Southern California, the number of health-related water-quality violations in L.A. County is low, particularly on a per capita basis.
Affordability trends: The report found great disparity in how much residents pay for water across systems. For the same amount of water, sufficient for a family of four, rates today range from $26 to $134 per month.
Accessibility trends: Few systems report producing less than the standard set in the "human right to water" legislation, 55 gallons per person per day. However, systems in San­ta Clarita and Antelope Valley were most likely to face declining groundwater levels. Increasing population, changing precipitation patterns under climate change and other factors pose challenges.
"In addition to the state's efforts, more regional, local and system-level work will be necessary to ensure the human right to water for all," said Kyra Gmoser-Daskalakis, a researcher at LCI and co-author on the report.